Restorative Dentistry
Home
•
Restorative Dentistry
Restorative treatments at 32ology Dental Studio are designed to repair or replace damaged or missing teeth, helping you regain proper function and a beautiful smile appearance. Whether you've broken a tooth, suffered an injury, developed gum disease damage, or have issues relating to age, our experienced dentist, Dr. Argina Kudaverdian, can help you find the ideal restorative solution for your unique dental needs.
Explore Topics on This Page
Dental Implants
Dental implants are a permanent replacement for missing teeth. Whether you have one missing tooth or several, implants can be customized to support a crown, bridge, or denture for a stronger foundation. After replacing your natural tooth root with a titanium post, a custom-made restoration is attached to the top for comfortable, secure, and natural-looking results.
Learn More
All-on-4 & All-on-6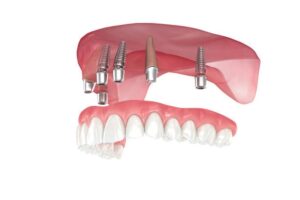 The All-on-X dental implant system involves placing approximately two to six dental implants into the jawbone to anchor a denture on top. The implants are strategically positioned to maximize support and stability, even in cases where jawbone density is compromised. All-on-X implant-supported dentures are often completed in six to eight appointments, providing patients with an efficient solution.
Dental Crowns & Onlays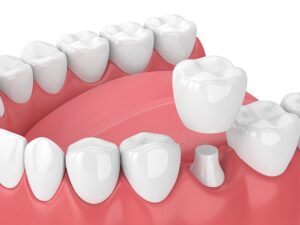 Dental crowns, or caps, are custom-made restorations that are placed over a damaged tooth completely, like a hat, to restore its form and function. These restorations cover the visible portion of the tooth above the gum line, helping to add strength and improve its appearance. Dental crowns or onlays are commonly used in cases of severe tooth decay, extensive damage, fractures, or after root canal treatment.
Onlays are a more conservative approach only restoring the defective parts of the tooth with porcelain. Each tooth requiring an onlay is prepared uniquely so that the porcelain onlay fits the tooth just like a puzzle piece. It blends in with the tooth providing a highly aesthetic and strong alternative to large fillings and preserving more tooth structure than crowns.
Dental Bridges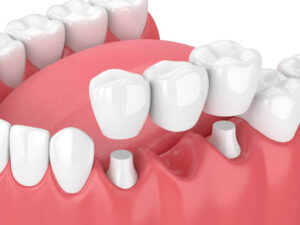 Dental bridges are used to replace one or more missing teeth by bridging the gap between existing natural teeth or dental implants. A dental bridge consists of two or more dental crowns on either side of the gap and a false tooth or teeth in between. The teeth acting as the support are first prepared and then covered by the custom-made bridge for a seamless result.
Dentures & Overdentures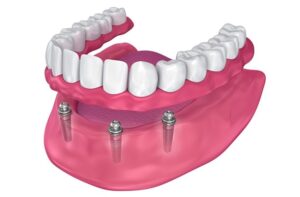 Dentures are designed to replace several missing teeth, restoring your ability to chew, speak, and smile like normal. For those wanting a more permanent teeth replacement, implant-supported dentures (or overdentures) are a great option. By supporting a dental prosthesis with a series of dental implants placed into the jawbone, you can benefit from a more secure restoration without the need for adhesives or pastes.
Full Mouth Reconstruction
A full mouth reconstruction (or rehabilitation) involves addressing multiple dental issues under one treatment plan. This can include replacing missing teeth, repairing tooth decay, treating gum disease, improving bite misalignment, and correcting jaw joint problems. This comprehensive solution can improve dental function and oral health while improving your overall quality of life.