Cosmetic dentists specialize in the appearance of a patient's teeth and gums, using advanced dental care methods to improve their smile with teeth whitening, veneers, dental bonding, and more. Dr. Argina Kudaverdian, our experienced cosmetic dentist at 32ology Dental Studio, will develop a personalized treatment plan to address your cosmetic goals. We strive to enhance the beauty of your smile and help you smile confidently through high-quality cosmetic dental treatments.
Explore Topics on This Page
What Are My Cosmetic Dentistry Treatment Options?
There are many cosmetic dental solutions to give you the healthy teeth and smile you are looking for. At 32ology Dental Studio we offer a variety of cosmetic dentistry services, including:
Smile Makeover
For those with multiple aesthetic dental concerns they want to improve, the comprehensive smile makeover treatment can provide a beautiful transformation.
Dental Veneers
Dental veneers are tooth-colored porcelain or enamel shells that are bonded to your teeth to conceal cracks, fractures, or discoloration.
Invisalign®
Invisalign® is a clear aligner system that can straighten crooked teeth, without the bold appearance of traditional metal braces.
Teeth Whitening
If you want to brighten the surface of your teeth and remove stains, teeth whitening is an excellent option. This affordable treatment can instantly lighten discolored spots on your teeth.
Gum Lift
If you have excess gum tissue covering your teeth (known as a "gummy smile") or want to enhance an uneven gum line, the gum lift procedure may be right for you.
Dental Bonding
Cosmetic dental bonding covers the surface of your tooth with tooth-colored resin to conceal any imperfections like cracks, holes, or fractures.
What Are the Benefits of Cosmetic Dentistry?
When you visit a cosmetic dentist to whiten, straighten, or repair your teeth, you aren't just improving your smile. Cosmetic dentistry comes with many benefits, including:
Improved oral health
Boosted confidence
Diminished stains
Straighter teeth
Long-lasting results
Is Cosmetic Dentistry Right For You?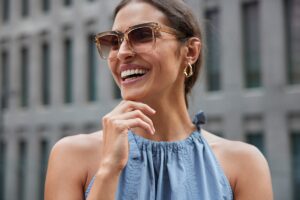 Cosmetic dentistry helps many people who are unhappy with their smile appearance. Checking out our professional cosmetic dentistry services is a great option if any of these issues are affecting your self-esteem:
Cracked, chipped, or broken teeth
Gapped teeth
Stained teeth
Misaligned or crooked teeth
Unevenly shaped teeth
Worn teeth
At 32ology Dental Studio, we've helped hundreds of patients improve their smile with lasting results. If you have any cavities or gum disease, we will treat those concerns first before beautifying the rest of your teeth!
Additional Frequently Asked Questions About Cosmetic Dentistry
When Should I See a Cosmetic Dentist?

It might be time to consider cosmetic dentistry if you find yourself feeling less confident when you smile and wishing you had better-looking teeth. Cosmetic dentists provide treatment plan options for you if your teeth are misaligned, chipped, fractured, stained, or yellowed. If you are unhappy with the appearance of your teeth and are searching for a way to get straighter, whiter teeth, cosmetic dentistry could be the solution.

When you visit us at 32ology Dental Studio for cosmetic dentistry, don't forget to schedule your routine dentist appointments to keep your and your family's beautiful smiles healthy and shining!

What Is the Difference Between a Cosmetic Dentist and a Regular Dentist?

Regular dentists are your go-to for essential dental care like cleanings, fillings, crowns, and preventive care. They are often your primary dental care provider and can help improve the health of your teeth and gums.

Cosmetic dentists go beyond this to enhance your smile with cosmetic treatments that focus on enhancing the appearance of your teeth for a bright, even smile you can be proud of.

Is Cosmetic Dentistry Affordable?

Some cosmetic dentistry operations can be costly depending on the type of treatment you want and your goals for your smile. But many affordable treatments, like in-office teeth whitening, can go a long way in improving your smile, especially if your insurance covers some of the cost.

At 32ology Dental Studio, we offer both general dentistry and cosmetic dentistry services, so you can manage your oral health in one convenient place. Our affordable cosmetic services help our patients achieve healthier, beautiful-looking smiles to boost their confidence.
Schedule Your Cosmetic Dentistry Consultation
At 32ology Dental Studio, we strive to make our patients feel welcomed, valued, and confident in their smiles. Our Dr. Kudaverdian works with you to build a treatment plan that fits your needs and reaches your goals of having a smile you don't want to hide.
We give our patients more than just the option to beautify their smiles with cosmetic dentistry. We are there for you when tooth injuries strike and to ensure long-lasting oral health through regular cleanings, exams, preventive care, emergency dental care, and more.