Implant Specialist in Tarzana, CA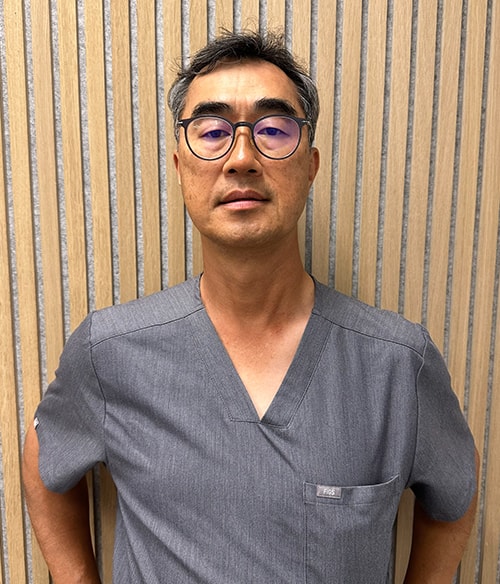 Meet Dr. Choi
Originally from Seoul, Korea, Keum Kang Choi, DMD is an implant specialist at 32ology Dental Studio. His goal is to improve patients' well-being through state-of-the-art dental care, and he takes great pride in seeing how dentistry can improve their overall quality of life. Dr. Choi is highly skilled in implant dentistry, utilizing advanced technology to place dental implants with optimal results. He is also experienced with performing full mouth rehabilitations using CT-guided surgery, transforming his patients' oral form and function.
With a commitment to providing exceptional dental care, Dr. Choi enjoys collaborating with the team at 32ology to create the best possible outcome for patients. In his free time, Dr. Choi enjoys spending time with his family—his wife, two boys, and one girl—and golfing.
Education & Training
Dr. Choi attended Seoul National University School of Dentistry, during which time he became a published author on a paper he wrote regarding oral cancer. He then continued to Tufts University School of Dental Medicine to earn his Doctor of Dental Medicine (DMD) degree. To advance his expertise in dental implantology, Dr. Choi completed a Fellowship with the prestigious International Congress of Oral Implantologists (ICOI).
In addition to his foundational education and advanced training with the ICOI, Dr. Choi has presented a basic dental implant course for beginner implantologists and lectured on sinus bone grafting and CT-guided surgery. He has also spent time volunteering in Korea, helping illegal immigrants improve their oral health. 
Professional Affiliations
Member of the California Dental Institute
Member of the Academy of Osseointegration 
Fellow of the International Congress of Oral Implantologists
Schedule Your Appointment with Dr. Choi
To learn more about Dr. Choi or learn how he can help you improve your oral health and function, please contact 32ology Dental Studio today!